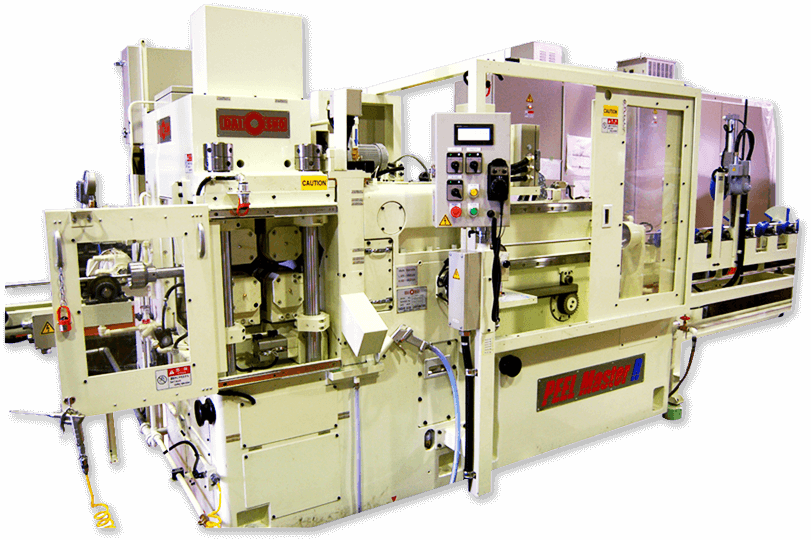 Bar peeling machine BTH series
A peeling machine removes the decarburized layer, scratches, or defective hardened layer on the surface of the cold/hot rolled round material.A continuous feed system of bars loses no time in loading and unloading.Therefore, it is suitable for mass production.
Work material
Ferrous, non-ferrous
Special steel
Alloyed steel
Copper and titanium
Inconel
Hollow materials (pipe materials), etc.
Daisho is
the only peeling machine manufacturer in Japan
The max. stock removal is 15mm in diameter.
FEATURES
Customized specifications are available upon request
"The Daisho Seiki Product lineup is not limited to the ""Bar to Bar"" peeling machine, but also includes a ""Coil to Bar"" machine that continuously feeds coiled materials, turns them into certain sizes, and cuts them into predetermined lengths, and a ""Coil to Coil"" machine with a coil take-up block."We are also engaged in the design and manufacture of the RM series of two-roll straightening machines with the ability straighten black and bright bars and to improve the surface finish.
Bar to Bar

Coil to Bar

Coil to Coil

Straightening
SPEC
| Model | Size range | Feed rate | Main motor | Weight |
| --- | --- | --- | --- | --- |
| BTH-25R | φ6~25 | Max.50 | 45 kW Inverter | 12,000 |
| BTH-35R | φ10~35 | Max.50 | 75 kW Inverter | 14,000 |
| BTH-60R | φ12~60 | Max.50 | 75 kW Inverter | 28,000 |
| BTH-80R | φ20~80 | Max.50 | 150 kW Inverter | 32,000 |
| BTH-125R | φ30~125 | Max.30 | 200 kW Inverter | 36,000 |
| BTH-160R | φ40~160 | Max.30 | 300 kW Inverter | 39,500 |
| BTH-200R | φ80~200 | Max.20 | 300 kW Inverter | 69,000 |
| BTH-280R | φ100~280 | Max.15 | 300 kW Inverter | 73,000 |
| BTH-360R | φ120~360 | Max.10 | 300 kW Inverter | 80,000 |
| BTH-500R | φ150~500 | Max.5 | 360 kW Inverter | 120,000 |